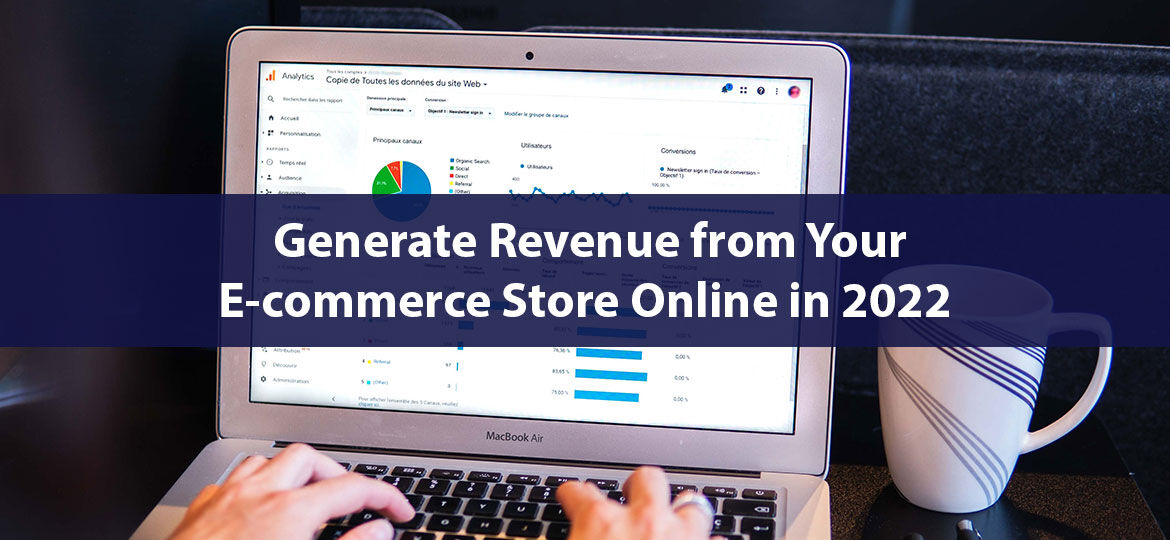 Generate revenue from eCommerce stores in 2022 is a hectic path up the thorny hill. But, incorporating digital marketing strategies and some appreciable real-time investment is the easiest job!
However, finding ways to improve your shop's timeline and its SEO performance will cost you a lot of time and effort. Not this time, because we've got you covered with the best strategies to generate exponential revenue. Build Here's your turn to go through these promising revenue-generating strategies:
10 Best Ways to Accomplish the Your Dream Revenue:
From assisting you in making smart marketing choices to guiding you through a successful roadmap, we've aligned the 10 best ways to secure more revenue from your e-shop.
Build A Trustworthy Brand:
Your online store's success relies on your customers' trust in your brand and its services.
The count of startups enrolling in mainstream marketing is growing exponentially. To immerge as a trustworthy brand, you've to:
Ensure the display of testimonials and reviews from satisfied customers.
Convey the impression of the most caring e-commerce shop that'll take care of your order and other preferences.
Make commendable improvements in your exchange policies and ensure the exchange and return system is fully operational.
2. Interactive Consumer Engagement
The content posted on your e-commerce website or digital store must be appealing and relatable to the customers. You can post interesting blogs regarding your services or the products you're offering. Thus, you'll get frequent visits from convertible audiences or potential consumers. Learn More About online marketing strategies in 2022.
3. Advertisement Marketing
Ad posting is the most reliable way to generate leads before you get gross consumer support or organic revenue. Google advertisements or marketing ads can take you to your required audience in no time but with the right platform and strategy.
Retargeting ads are another tested strategy to win back your consumers' in some products with updated offers or discounts.
4. Offer Discounts and Sales
Offering discounts and sales is an instant investment that'll draw long-term revenue for you. With this perspective, your e-commerce shop should start looking into these offers:
Most consumers hunt for a shipping-free purchase. To fulfill this expectation, you may review your existing prices and set a margin to cover the shipping cost. Thus, you might convert potential visitors into consistent customers.
Fast shipping is another way to make customers pay more as a shipping cost.
Set some consumer goals, and offer discounts on fulfilling them. For instance, the subscription offers 10% off selected products, free shipping, and so on.
5. Reconsider Your Products' Prices
A common perception these days is that higher prices bring more value. Thus, consumers are willing to pay a high price for their expected product value. Here's a significant clue for you to upgrade your current prices. However, you can offer discounts on the same expensive products to appeal to consistent customers.
6. Organize Your Shop's SEO
By far, you've learned strategies to make customers stay on your buyers' list, but how to show up your presence in the first place? This query is only answerable through a strategic SEO implementation. You have to seek the expertise of an SEO expert to rank your shop in Google's e-commerce top listing.
7. Social Media Expansion
Social media expansion of your online store is of prime importance. Determine the platform used by your target audience and start posting ads there. Instagram and Facebook are the go-to choices to make a win-win out of a social media marketing campaign.
8. Make a User-friendly Interface
Do you know what the simplest way to make a positive interaction with your customer is? A user-friendly interface with easy-to-navigate pages. The presentation of your e-commerce shop must comply with the services or products you're offering.
9. Improve Sale Strategies
Some promising ways to improve sales strategies are integrating upsells and one-click checkouts. Upsells are launching better or modified versions of the existing products or services with improved value. One-click checkout eliminates the chances of "the change of mind to buy a product" because of multiple checkout interfaces.
10. Collaborative Marketing
Collaborative marketing is like sharing your audience and getting a diversely expanded clientele. A cross-promotional agreement with the successful entities of your niche will serve the job for you. Make sure the collaborating brand isn't your direct competitor.
Final Words:
With the ever-changing horizon of e-commerce and advanced marketing strategies, it isn't easy to stick to a single consistent marketing module. However, we've brought the cream before you to make a marketing plan of your own and expand your e-commerce website through leaps and bounds!
For more of our blogs, news and offers you can join us on Facebook, Instagram, LinkedIn, and Pinterest as well.