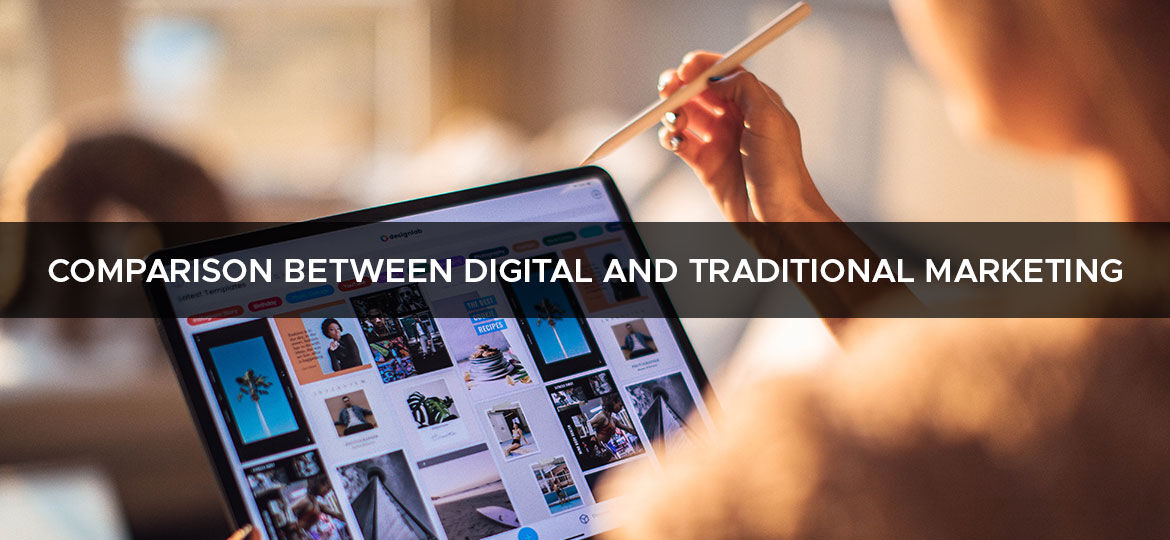 Digital marketing is extremely different from traditional marketing. Despite the few commonalities, each of them is distinctive in its way. Since digital marketing tools like e-commerce websites, Google AdWords, emails, and others are utilized more regularly and are accessible to the largest possible audience, marketers are now using them to promote their companies. To access the largest possible audience of target customers and to increase income and profit for their brand, marketers/businesses and corporations are increasingly relying more on digital marketing platforms than only conventional methods of marketing.
Despite the fact that both conventional and digital marketing are beneficial in different ways, according to current marketing trends, digital marketing is somewhat more advanced than the former.
Here is comprehensive comparison between digital and traditional marketing:
Traditional Marketing
Why Is Traditional Marketing Important?
Traditional marketing is a dated kind of advertising. Flyers, billboards, TV and radio commercials, print and newspaper ads, and other forms of advertising were employed by businesses to sell their goods in the early years.
Interest, awareness, desire, and decision-making are the four stages of traditional marketing. Depending on the sort of business, conventional marketing techniques are more effective for many. Their target audience would choose the former when comparing conventional marketing to digital marketing.
If one wishes to attract the elder demographic, traditional marketing is a very successful marketing method.
If one wishes to start or grow a company with the aid of a wider local audience, this sort of marketing is quite helpful.
Traditional advertising has the significant benefit of being aired repeatedly. However, with digital marketing, customers might ignore them.
Principal Traditional Marketing Forms
Some examples of conventional marketing techniques are as follows:
Television advertisements
Billboards & Flyers
Radio advertisement
Newspaper adverts
adverts on television
Referral
Postal service
Traditional Marketing: Advantages and Drawbacks
Pros:
● Powerful and Simple to grasp
It's a commonplace for most individuals to see eye-catching billboards or TV commercials in their daily lives. They're interesting and simple to consume.
● Printable forms are permanent
Marketing items that are printed are more enduring and memorable. The best way to find information about anything is newspaper magazines, since ages.
Cons:
● More challenging campaigns to measure
Brand trackers are one way to assess conventional marketing programs, but they are not nearly as sophisticated or in-depth as the tools available for digital marketing.
● Usually pricey
Likely, a young business won't have the money for a four-page spread in Vogue. Traditional marketing strategies are costly in many cases.
● No direct contact with customers
In contrast to social media marketing, you are mostly unaware of how your audience will respond to your marketing initiatives.
Digital Marketing
Why is Digital Marketing Important?
A contemporary marketing technique is digital marketing. Through web marketing, we advertise and sell goods and services. Additionally, it describes any business's marketing using online platforms and tools like Google, Facebook, Instagram, YouTube, etc. Digital marketing involves four stages: planning, conversation, content, and sequences.
Many new technologies have emerged in our world that are changing quickly. Among them is the use of digital marketing methods. Nowadays, consumers may do marketing from the comfort of their homes, utilizing the internet and cell phones. These tried and tested tactics save the costs of transportation, inventory, and other physical expenses.
Digital marketing is way ahead of traditional marketing. Several of them are listed below:
It is easy to monitor audience participation and compile their information for later use. It will improve the website algorithm for the business. You can simply get the information when someone visits your website, follows you on social media pages, and ask a query directly.
On several platforms, businesses may promote their offerings for free. Emails may be sent and received without incurring any expenses. However, printing and sending individual postcards would cost a lot of money using conventional marketing techniques.
Digital marketing will assist companies in capturing the interest of a worldwide audience because of its greater breadth.
Principal Digital Marketing Forms
Major forms of digital marketing are as follows:
SEO
Social media engagement
Content marketing
E-mail marketing
Content marketing
However, digital marketing has many recognizable forms that can bring you a real-time calculable reach and business growth.
Digital marketing – Pros and Cons
Pros:
● Additional ways to engage:
You can see what your audience thinks of your business and marketing activities through platforms like social media. You know you're doing something correctly if people share, like, and comment positively on your marketing.
● Campaign evaluation is simple:
Data and audience participation may be immediately tracked. You know immediately when someone reads an email, clicks on a link to your website, or follows you on social media. This data may get various insights, such as the creative content for different audiences, the most efficient medium to launch your marketing campaigns, and the ideal times of day for interaction.
● Organic Reach
Due to the extensive reach of digital marketing, it is effective for more dispersed audiences.
Cons:
● Less durable
Digital marketing initiatives such as Google AdWords, banners, promotional emails, or social network ads may be transient or momentary. They are intangible and simple to disregard. Your advertisement will no longer be visible to your target audience if they scroll down or click to the next page.
● Continuously changes
There is a long list of efforts to put forward if you want to maximize your presence in digital marketing. Each channel—from social media to search engine marketing—usually needs a professional to obtain the maximum return on your investment.
Anata Digital is the best Digital Marketing agency in Australia.
For more of our blogs, news and offers you can join us on Facebook, Instagram, LinkedIn, and Pinterest as well.